WMI Community Engagement Projects
Although WMI primarily provides microfinance services for impoverished women, many additional programs have evolved around WMI's activities over the years. These additional programs help support the women in the loan program, their children and families, and the communities where the loan programs operate.
Health Screenings
WMI believes that good health and the ability to successfully operate a business go hand in hand. In Bududa and Sironko Districts, Uganda, we partner with the Mbale-based medical professionals at RAIN Uganda to provide rural health screenings to locals including, cervical and breast cancer, HIV/AIDS, vision and blood pressure. Patients with issues are referred for follow up services. Thousands of women in the loan program, as well as resident villagers, have been screened through this health outreach partnership.
Reproductive Health and Education
Not all microfinance providers are alike. WMI is a non-profit provider of microfinance services. In Sironko District, Uganda, WMI works with Marie Stopes International to bring family planning education and options to village women and their partners. We have had record crowds turn out for training on family planning alternatives and to receive resource information. WMI offices are used as confidential consultation rooms where women are able to receive on-the-spot family planning services.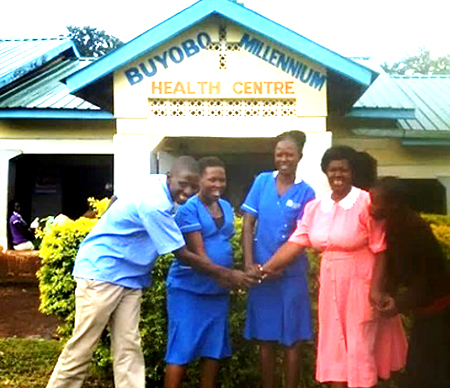 Boys and Girls Group
Boys and Girls Group is a program for youth ages 11-14 in Buyobo led by our facilitators, Sam and Teacher Susan. Girls and Boys groups hold weekly sessions discussing topics such as sexual health and hygiene, as well as creative expression and business skills. Boys and girls groups also hold contests in entrepreneurship and design. Through these contests, some of the youth in our program have gone on to create successful businesses and sell their designs to fund their education. To date, more than 400 youth have benefited from the program.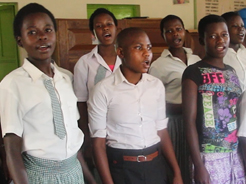 Clean Water Initiatives
Access to clean water is a serious, on-going problem in rural African villages. WMI has completed several projects to bring clean water to the communities we serve. In 2013, college interns installed a rainwater collection tank in the classrooms at Buyobo Primary to provide drinking water to the children during school. In 2017, WMI, with its local partner BWA, completed a $35,000 renovation and expansion of the entire Buyobo gravity-fed water system - the most extensive water project in the District. Over 5,000 residents and school children can now drink potable water straight from the tap, eliminating the need for expensive or time-consuming purification measures.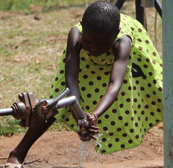 Solar Lamps
With a generous support from Sun24, WMI has distributed thousands of solar lamps to women in rural communities in Uganda and in Kenya, through our loan program partner, Lewa Wildlife Conservancy. The solar lamps provide power in kitchens and common areas so that children can study in the evenings and women can cook in their kitchens without being dependent on traditional carbon-based lighting options. Off-grid households in Kenya spend approximately $200 a year on kerosene to fuel kerosene lamps, making them costly in addition to being dangerous. A survey that the lamp recipients participated in showed that the solar lighting sources were very well received and much preferred over kerosene lamps.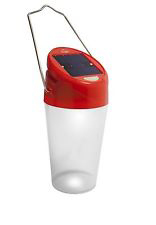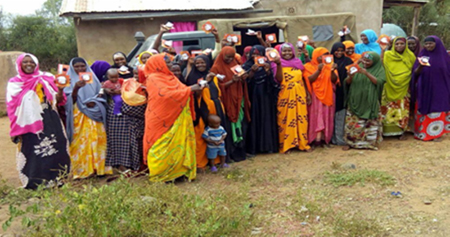 Orphan Outreach Program
The Orphan Outreach Program is a new initiative which was launched in 2018 by interns Lilia Smythe. It provides resources to orphaned children in Buyobo and the surrounding communities. In Uganda, children who have lost at least one parent are considered orphans. Most of these children live with relatives or other adults in the community; however, they often face issues of mistreatment, neglect, and hunger. WMI launched the Orphan Outreach Program which provides a safe, afterschool haven, with access to adult counselors, academic assistance, and school supplies. Today, 32 children come to Buyobo each week to participate in the program.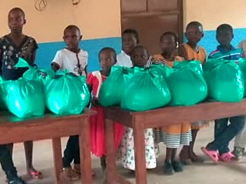 Buyobo Youth Table Tennis Club
Supported by a generous grant from The International Table Tennis Federation (ITTF), which governs the sport of table tennis worldwide, WMI launched the Buyobo Youth Table Tennis Club. WMI provides equipment and supplies for the nearly 100 village boys and girls who are learning to play table tennis at WMI's headquarters pavilion, including pandemic protective gear.
Litter-Free Communities Campaign
Much of sub-Saharan Africa is awash in plastic bags and uncollected litter is routinely discarded by the side of the road. With the introduction of two trash containers, two full-time trash handlers, rakes, wheelbarrows and gloves, the main crossroads of Buyobo are now spotless. The community has wholeheartedly embraced the clean-up campaign, especially the business leaders, many of whom are WMI borrowers. With WMI and BWA providing materials and training, the community clean-up campaign has expanded to surrounding areas.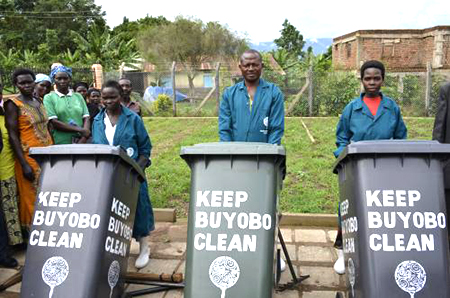 HEAR (Helping End Abusive Relationships)
HEAR gives sexual violence survivors in the Buyobo community a chance to feel like they have a voice in combating this type of tragedgy. Coordinated by college interns, the AIDS Information Center in Mbale provided a three-day course in Buyobo for local 20 women leaders to be trained as HEAR counselors. These community leaders now offer counseling services for victims of sexual assault. In addition, there is now an emergency fund in place for those who have been sexually assaulted and need transportation to the city of Mbale in order to receive treatment.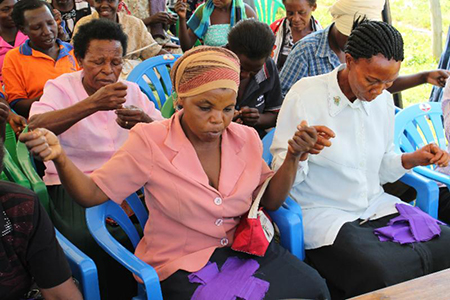 Agroforestry Training
Trees for the Future, a partner of WMI's loan hub in Buyobo, conducts agroforestry training which focuses on the importance of protecting tree cover and taking care of the local environment. Demonstrations provide instructions on making nursery beds, and free seedlings are distributed for women to plant in their home gardens.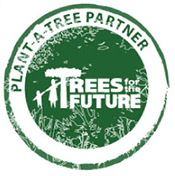 Building Construction
In 2009, WMI completed its first building - a headquarters in Buyobo, Uganda where it manages operations throughout East Africa. Since then WMI has added 8 additional buildings throughout its loan hub network. It now has a regular schedule of building small pavilions in strategic rural areas to accommodate up to 200 loan group members. The buildings provide a venue for loan collection, training sessions, support group meetings and community events - they give WMI the capacity to add new services, store records in a secure location and expand services. In 2017, WMI dedicated the new 500-seat pavilion adjacent to its Buyobo headquarters, which now hosts all loan program activities for the largest member groups and has also become a valuable community resource.
Since 2017, WMI has constructed eight meeting pavilion/offices including latrines, in sub-hub villages. The land is purchased by the ladies is the loan program and they are responsible for building maintenance and security. WMI finances the building construction.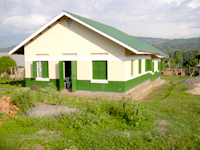 Internet Café
In August 2010, 14 interns from Walt Whitman High School in Bethesda, MD, brought laptops donated by Discovery Communications to Buyobo, Uganda. The interns installed an Internet café in the WMI building and spent the week teaching village women and children basic computer skills. George Washington University anthropology professor John Finch traveled to Buyobo in the summer of 2011 to update the computers' Internet connections.
Using a computer is a vital skill in today's technology-based society. With the help of this local Internet café, borrowers have learned this skill. Their ability to communicate, research information and type documents will help them improve their businesses.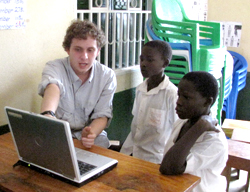 New School Classrooms
In 2010, interns from Walt Whitman High School in Bethesda, MD, raised over $4,000 in funds and helped lay the foundation for three new classrooms for Buyobo Primary School in Sironko District, Uganda. Some of the classrooms in the existing school had been dilapidated beyond repair. During the year, the ladies in the loan program, WMI supporters, village residents and local officials raised funds to complete the construction. The roof was put in place in May 2011, just weeks before WMI's next crew of summer interns arrived to paint and decorate the classrooms. Assisted by jubilant local students, the 2011 interns painted the classrooms with various designs including the water cycle, a map of Africa and local village scenes. In subsequent years solar power was added and WMI continues to make improvements to the classrooms as new needs arise.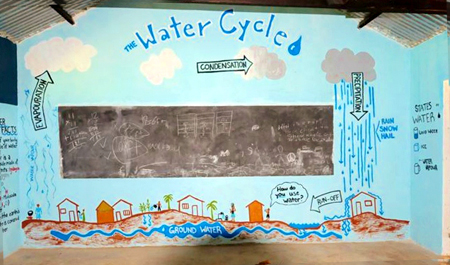 Children's Library in Buyobo
WMI Installed a children's library of 1,500 donated books in Buyobo. From analyzing the data for the Fact Book, launching the pre-school pilot program and making field visits, WMI found that the local village primary school was grossly under-resourced. Students in the Bethesda, MD, area, including Pyle Middle School students, conducted a book drive for WMI. Christina Esposito and her Girl Scout troop led a band of volunteers, including many Carderock Springs, MD residents, in an effort to cover the paperbacks with plastic protectors, create a computer inventory and insert library check-out pockets in the back. The books continue to provide a much-needed resource to local students.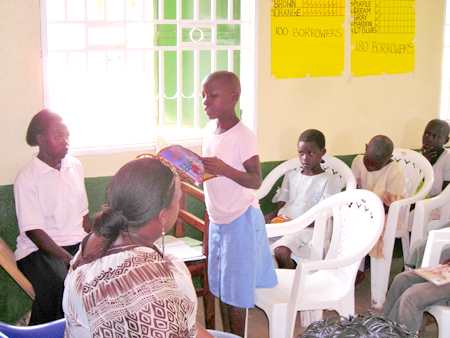 Textbooks for Buyobo Primary School
Through the efforts of Margot Van der Vossen and Brian Miller, Williamson Elementary School in Williamson, NY donated its slightly used textbooks to the village children in Buyobo. Brian, a high school science teacher, interned with WMI in Buyobo and was determined to do something about the lack of textbooks in the school classrooms, where students are taught by rote memorization. Brian's mother, Lori Miller, went into action and secured full sets of reading and math books for 60 students, grades 1 - 6 from her school in New York. The Williamson educators told WMI that "it is very exciting to know the books will once again be in the hands of children."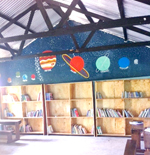 Children's Books for Siaya, Kenya
In March 2011, 58 boxes of children's books donated by WMI supporters arrived in Kenya, bringing the total number of children's books donated through WMI to 5,000! Free shipping on British Airways was provided courtesy of Jim Cannon, president of Toto Communications. The books were picked up and transported to the WMI loan hub in Siaya, Kenya by Rev. Fr. Richard Odhiambo Oloo of ASEMBO IFABS Project, which operates two children's centers in the Siaya area. WMI volunteers Kathy Staudaher, Alison Ewing, and Meris Sparrow organized the book donation project, and dozens of students and parents volunteered their time to sort and label the books.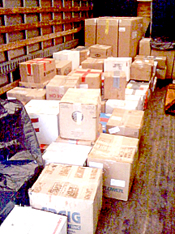 Teacher's Tea and Bun Program
The summer 2010 high school interns launched a Bun and Tea Program for the teachers at Buyobo Primary School, which continues to serve the teachers today. The program provides a bun and cup of tea every afternoon during lunch for the teachers to enjoy. Many teachers walk a long way to get to the school and have no lunch during their breaks, so these snacks provide much-needed energy. Funding for the program has been continued by private supporters and WMI partner, the Buyobo Women's Association.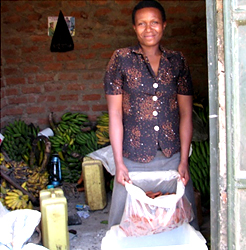 Eyeglasses
Vision problems are very common in rural Uganda because eyeglasses are very expensive and screening is not easily accessible. WMI supporters have responded to this pervasive problem by donating over 1,000 pairs of eyeglasses and much-appreciated sunglasses to Buyobo. Additional donations are accessed on a regular basis from non-profits locate in Mbale.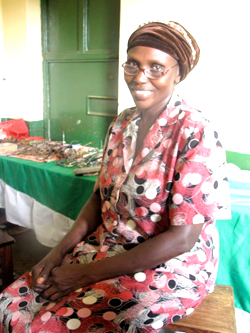 Blood Pressure Monitoring Program
WMI kicked off a blood pressure monitoring program in May 2009, which continues to to be very popular with loan program borrowers as they learn more about the dangers of high blood pressure. WMI staff offers screenings and tracking of blood pressure to WMI clients and provides healthy eating advice and simple solutions to high blood pressure. The WMI Program provides the first opportunity for many of the women to have their blood pressure taken. This increased awareness is the first step to disease prevention.
Fuel-Efficient Stoves
WMI introduced a fuel-efficient stove (F.E.S.) distribution opportunity in Buyobo. By developing a relationship with Ian international non-profit, WMI arranged stove deliveries to borrowers who wanted to become saleswomen. An F.E.S. eliminates almost all of the smoke from wood-burning cooking and utilizes one-third the amount of firewood as open flame cooking. There is a large demand in the villages for this type of timesaving and cost-cutting product.
WMI also partners with Sun24 to provide metal grates and cylinders to improve the efficiency of the three-stone cooking method used by many village women.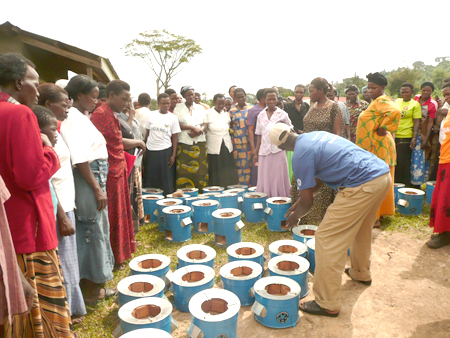 Advanced Business Training
WMI has partnered with MAPLE Micro-development, located in Mbale, Uganda to provide advanced business training to all WMI Local Coordinators. MAPLE is dedicated to reducing poverty, empowering women, and fostering self-sufficiency across generations by providing community groups in East Africa with a range of financial and educational services. WMI's local coordinators serve as liaisons to their own communities around WMI's headquarters in Buyobo, as well as liaisons to all of WMI's rural loan program partners throughout East Africa. They visit WMI's other affiliated programs on a quarterly basis to conduct 2-3 day business trainings for new borrowers. MAPLE's "training of trainers" builds upon the coordinators' existing framework of business knowledge so that they can incorporate this knowledge into the trainings they conduct quarterly, as well as pass it along to the WMI businesswomen in Buyobo whom they visit on a monthly basis.