Our History
The Beginning
In the spring of 2007, Robyn Nietert and Betsy Gordon, residents of the Carderock Springs neighborhood in Bethesda, MD, discussed ideas for organizing an initiative that would allow local women to reach out to their counterparts in developing nations. Graduates of George Washington University law school and business school, respectively, they discovered a common interest in microfinance.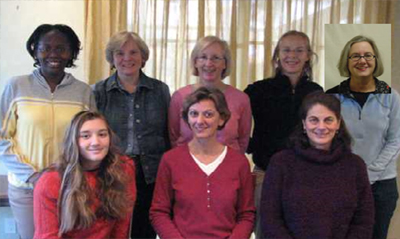 The Founding
One advantage of a microfinance initiative is that unlike conventional aid organizations, microfinance preserves the capital base of an organization by providing loans rather than subsidies. Ms. Nietert and Ms. Gordon decided that a microfinance initiative would allow them to assist impoverished communities in a sustainable way. They called on other colleagues with professional experience to form a non-profit corporation, the Women's Microfinance Initiative (WMI). A colleague practicing at Baker & McKenzie in New York persuaded the firm to provide pro bono legal counsel.
The Uganda Network
Through a global service project of Bradley Hills Presbyterian Church, Ms. Nietert had learned about the women of the Buyobo Women's Association in Buyobo, Uganda. Another church member, June Kyakobye, had spent childhood vacations in Buyobo with her mother. Ms. Kyakobye immediately endorsed the idea of providing business loans to the women of Buyobo, and she joined the WMI Board.
WMI's Board members pooled their resources to fund WMI. Through Ms. Kyakobye, they entered a dialogue with the Buyobo Women's Association and reached an agreement making the widows' association a local lending partner. In order to provide follow-up services and training to borrowers, WMI forged an alliance with a local Ugandan charity, Foundation for the Development of Needy Communities (FDNC), which provides extensive outreach services to the villages in the Buyobo area. With the help of their newly created Advisory Board, the WMI directors drafted loan documents and training materials for the credit program.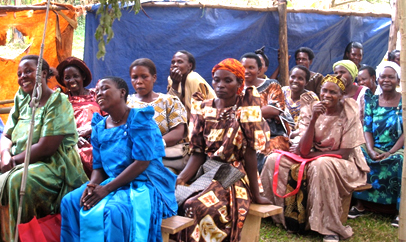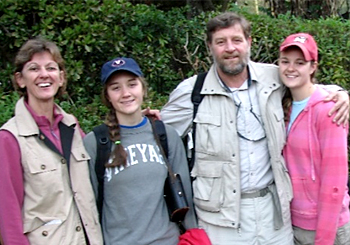 The Journey
At the end of December 2007, Ms. Nietert, her husband Malcolm Stevenson, also an attorney, and their two daughters, Montana, 19, a sophomore at UVA, and Victoria, 16, a junior at Walt Whitman High School, departed Dulles Airport for Africa. They reached Uganda on December 31, 2007, and journeyed to Buyobo. There, they met up with Ms. Kyakobye, and were ready to launch WMI's micro-lending program.
The Welcome
The entire village of Buyobo turned out to greet them. The women of the BWA, dressed in handmade gowns, led a three-hour program of singing, dancing and speeches. Local politicians were on hand to offer their words of thanks, and the youth of the village drummed and step-danced. The welcome ceremony was held in a small outdoor arena with a banana-leaf roof. In a building packed to capacity, dozens of wide-eyed children stood on tiptoe to catch a glimpse of the pageantry.
When it was WMI's turn to speak, Ms. Nietert explained that WMI is not a big bank or large corporation, but just a group of businesswomen on one side of the globe helping their counterparts on the other. She handed out pictures of the WMI Board, pointing to each member and naming her. The Buyobo women repeated each name carefully and clapped long and hard for the women across the ocean that were reaching out to them.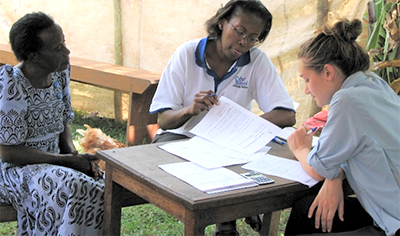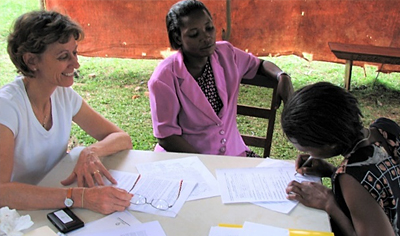 The Program Launch
After New Year's Day celebrations, the work began. Ms. Kyakobye teamed with Ms. Nietert's daughter Montana to interview prospective borrowers and write simple business plans. Meanwhile, Ms. Nietert and Olive Wolimbwa, the Chair of the BWA, formed a second team. Many of the applicants understood English, but Ms. Wolimbwa and Ms. Kyakobye provided Lugisu translation as needed.
For two days the teams vetted business ideas to raise chickens, market bogoyas and open small shops. Chatting quietly on a bench, women waited patiently for hours for their turn to meet. Loan applications were completed, and 2 days of training began. Ms. Nietert explained simple marketing, operations, and management concepts. Materials were handed out, and the lesson on "income minus expenses equals profits" drew cheers. Although many of the women had operated micro-businesses before, no one had ever explained the benefits of record keeping. WMI supplied notebooks and calculators, and the women vowed to keep track of their business finances.
Montana was in charge of keeping tabs on WMI's documents, and on the last day she handed out the Loan Agreements. Twenty initial borrowers were selected, and they signed their names carefully to the documents, calling to their best friends to come over and witness their signatures. The loan amounts of $50 - $150 were distributed and 20 additional borrowers were pre-qualified for the next round of loans, which were disbursed in March 2008. The borrowers celebrated with an impromptu conga line that snaked its way through fledgling businesses. Victoria was in charge of video and photos of the trip. And, Malcolm was the good will ambassador to the village elders - all men!
The Return to America
The following morning the WMI team collected its belongings and headed out to Kampala, loaded with good-bye gifts of local coffee beans and homemade dresses.
Surrounded by widows chanting a thank-you song, the WMI mini-van pulled out onto the dusty road as the widows held up the cell phone WMI had purchased for them. Back in Bethesda, MD, WMI initiated weekly telephone calls with the Widow's Association every week, and Ms. Wolimbwa reports that the borrowers are doing great and have begun a joint savings program.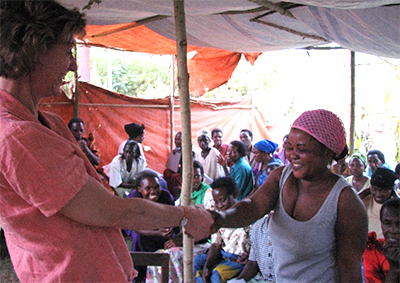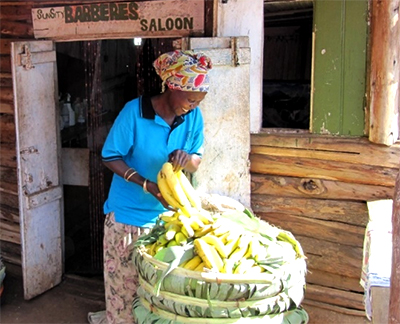 The Borrowers' Businesses
Borrowers of the first loan issues started business ventures in raising chickens, tailoring, buying and selling vegetables and bogoyas, selling cold drinks and biscuits, grinding maize, operating small shops, and growing coffee. Upon receiving their loans, the women indicated that they would use their business profits to pay school fees, improve family meals and for medical care.