Meet Our Interns
Ever since we first began operations in 2008, WMI has sponsored internship programs. We have hosted over a hundred students from across the United States and throughout Europe. Interns have travelled to Uganda, Kenya and Tanzania to help expand loan program operations and they have worked on WMI projects in the US as well. WMI believes it is important to engage young adults in field work and introduce them to WMI's unique economic platform for providing rural women with access to financial services and business skills training.
Generously offering their time and talent to our loan hubs, interns have upgraded our computer technology, conducted advanced financial literacy training, developed staff training materials, analyzed program operations, prepared business plans for borrowers, introduced community health outreach, conducted sports programs for village youth, renovated school buildings, installed solar systems, developed support services for teachers, taught in the local schools, documented program impact, and acted as cultural ambassadors, generating goodwill wherever they go. WMI is grateful for the compassion and skills that interns have contributed to our mission of empowering rural women.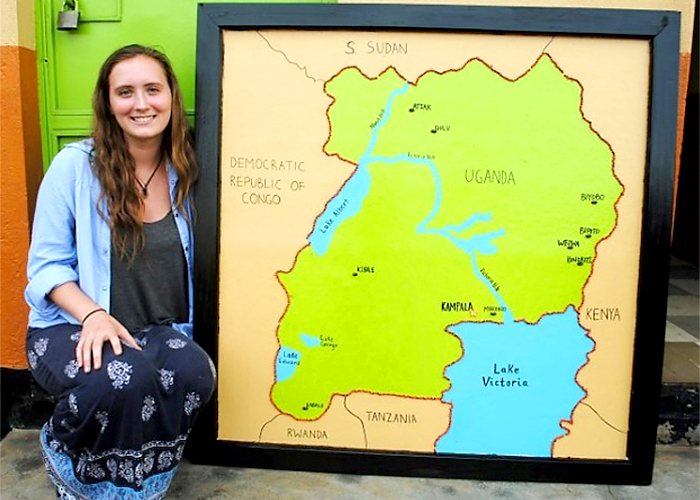 2023 Summer Interns Uganda
Much like Heath Ledger's character in The Knight's Tale returning triumphantly to London with his entourage to the strains of Thin Lizzy's The Boys Are Back in Town, so WMI's college interns returned to Buyobo for the first time since Covid engulfed the world three years ago. And, Buyobo greeted them enthusiastically! Our team is led by Cindy Matsiko, who has been managing WMI's internship program for the past three years, and who also handles social media for us. The interns are working on data analysis and creating the annual Factbook documenting loan program impact, as well as visiting borrowers' businesses and their stalls at the marketplace, conducting interviews, taking photos and videos, and teaching at Buyobo Primary School.
Cindy Matsiko recently graduated from University of Maryland, Baltimore County where I majored in Psychology and minored in Africana Studies and Social Welfare. She was in Buyobo with her mom, board member June Kyakobye, when the loan program launched in 2008 and is delighted to be back in the village.
Fatima Shamim is a junior majoring in Economics at Wellesley College, where she is Co-Fundraising and Co-Outreach Chair for UNICEF. She is excited to work with WMI and looking forward to learning more about the role of microfinance for economic development through the advancement of women.
Elizabeth Grace Mwebaze is 21 years old from Buyobo, Uganda. She will be joining Medicare health professionals Mengo in Kampala this summer, where she plans to pursue clinical medicine. Liz is our first college intern who grew up witnessing the loan program in action in her hometown.
Sarah Kate ElHamahmy is a rising junior at Georgetown University, pursuing a major in Political Economy. She has a passion for feminist advocacy and economic empowerment which is what brought her to WMI!
Micah Shin is a junior at Newbury Park High School in California. A varsity lacrosse player and National Honor Society member, Micah is interested in gender empowerment and finance. She interns at her local branch of UN Women and works with a non-profit dedicated to increasing financial literacy among girls. This fall, Micah is assisting WMI with research on current events in East Africa that impact rural women, families and general loan program operations. She develops information for articles and creates posts for our social media accounts.
2022 Remote Summer Interns
WMI's Summer College Internship continues to operate on a remote basis. WMI's local leadership team at our Buyobo, Uganda headquarters is becoming more experienced and skilled at collecting data and organizing it into spreadsheets. Our summer interns are using a variety of technology platforms to obtain the information and then analyze it and prepare program impact reports. They will also create a new video about loan program operations and assist with newsletter articles and web site updates. WMI is fortunate to have such talented young people on board!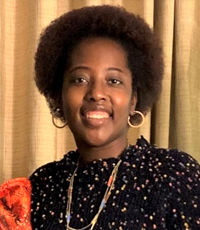 Cindy Matsiko, our 2022 Internship Projects Manager, is a rising senior at University of Maryland Baltimore County and is returning for her third summer internship with WMI. Having traveled to WMI's headquarters in Buyobo several times, Cindy is also the liaison with WMI's field staff for gathering statistical data. Starting last summer Cindy took over creating the content for WMI's media platforms. She also works at the UMBC Residential Halls. She is majoring in Psychology and with a minor in Africana Studies and Social Welfare.
Samhi Boppana is a rising sophomore at Johns Hopkins University, double majoring in Molecular and Cellular Biology and Political Science. On campus, she is involved with initiatives aimed at improving voter registration on campus, advocacy for reproductive and sexual health issues, and the service fraternity Alpha Phi Omega. Through this internship, she looks forward to learning more about microfinance's impact on international development and empowering women.
Celia Eitzel, is a junior at Lehigh University majoring in International Relations and Economics with a Supply Chain Management Minor. She loves traveling and learning about new cultures, spending time volunteering, and has played soccer her entire life. Looking toward the future she is interested in a career focused on emerging markets and believes the work WMI does plays into that well.
Jamie York is graduating from the Pennsylvania State University with a degree in Economics. In her free time, she volunteers for Take Stock in Children and mentors high-school-aged girls as they navigate the college admissions process. She hopes to support the WMI team's mission and is excited to learn more about the impact of micro finance on the lives of women in East Africa. She currently resides in Atlanta, Georgia.
Miranda Gentin is a recent graduate of the Edmund Burke School in Washington DC. In the Fall, she will be attending Emory University as a freshman, where she plans to major in business/entrepreneurship. She also currently serves as an intern at Bold Story Press, a publishing company focused on female authors. She is looking forward to contributing to the mission of WMI and learning more about microfinance. Miranda volunteered with WMI for a special research project this summer.
2021 Remote Summer Interns
The Covid pandemic again required WMI to host all summer interns on a remote basis. This presented administrative and logistical challenges in gathering data from the surveys and interviews with borrowers conducted in the villages where WMI operates. The interns rose to the task and used all of the technology platforms available to them to access the information. They carefully analyzed the data and prepared the 2021 WMI Fact Book which provides us with a valuable tool to asses and monitor loan program impact. Additionally, these energetic students updated the web site, researched articles, and helped create the lay-out for the WMI newsletter.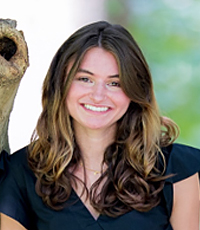 Gabby Ostoyich is a rising senior at Boston University where she majors in International Relations and minors in Art History. On campus, she is involved in BU's Leading Women of Tomorrow club and tutors students in English on the side. She intends to pursue a career in foreign service or public policy and is particularly interested in humanitarian crisis management and refugee rehabilitation.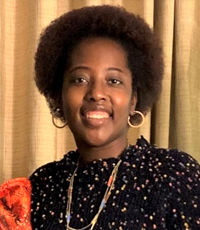 Cindy Matsiko is a rising junior at University of Maryland Baltimore County and is returning for her second summer internship WMI, this year as the manger for the internship projects. Having traveled to WMI's headquarters in Buyobo several times, Cindy is also the liaison with WMI's field staff for gathering statistical data. Starting last summer Cindy took over creating the content for WMI's media platforms. She also works at the UMBC Residential Halls. She is studying Psychology and Africana studies and pursuing a certificate in Elementary Education.
Lyndsay White is a rising senior at the University of Michigan, where she is studying Biopsychology, Cognition, and Neuroscience with a Minor in Writing. She intends to pursue a career in healthcare industry, working to create a more accessible and equitable global system. In Ann Arbor, she is involved with UM's Science Learning Center as a Peer Facilitator as well as her national honor fraternity, Phi Sigma Pi. Through this internship with WMI, she is excited to learn about microfinance and its impact on communities as well as the individual lives of the village women empowered through WMI.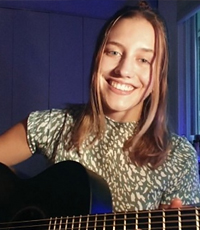 Molly McPhaul is currently a sophomore at Belmont University in Nashville, Tennessee. She is studying Music Business with an emphasis on production. Her work has recently been released on platforms like Spotify and she has an upcoming track on Chillhop's Summer Essentials mixtape. She has a passion for all things creative and is excited to use this passion to support the enhancement of the visual display and communication of Women's Microfinance Initiative's media platforms.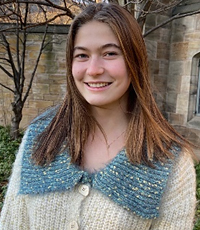 Cary Moore is a rising sophomore at Princeton University. She is a prospective economics major and plans to obtain certificates in American Studies, History and Diplomacy. On campus, she tutors incarcerated young people working toward their GEDs through The Petey Greene Program and participates in the Princeton Asylum Project by researching conditions in immigrants' countries of origin. She looks forward to working with the WMI team to build an understanding of how to maximize the community impact of micro-investment initiatives, specifically in the midst of the unique economic challenges posed by COVID-19.
2020 Remote Summer Interns
Our newest interns started work at the beginning of June, analyzing data collected via surveys completed by borrowers throughout the year that were made available to the interns on an accessible server. In addition to preparing the annual fact book documenting program impact, the interns will create a documentary about program operations from archival video footage and photos stored on the cloud. We are so grateful for our tech savvy youth!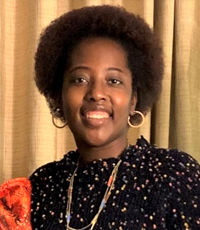 Cindy Matsiko is a rising sophomore at University of Maryland Baltimore County and lives in Germantown, Maryland. She is studying Psychology and Africana studies and pursuing a certificate in Elementary education. On campus, she is involved with the Food Recovery Network, which combats food waste, and the Intervarsity Christian Fellowship. With family roots in Buyobo, she has visited the village several times and has met the local leadership team. She is excited to be a part of WMI's remote internship this summer.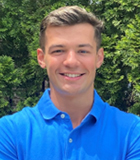 Luke Baxter is from Haddonfield, New Jersey and an upcoming second-year undergraduate at Princeton University. He intends to concentrate his studies in economics, with a certificate in finance. On campus, he is a member of the Lightweight Rowing Team as well as the Peer Academic Advisor and Sophomore Leadership committees. Through his internship with WMI, he is excited to learn more about microfinance, and hopes to use the knowledge to contribute to future financial development in rural communities.
2019 Spring/Summer Interns Uganda
From March through August 2019, Buyobo, Uganda was abuzz with the myriad projects, analyses and workshops being conducted by a phalanx of talented college interns and recent graduates.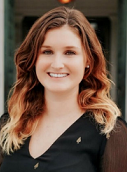 Kelly Collins graduated from University of California, Berkeley, with a B.S. from the Haas Business School and a B.A. in Economics. Kelly investigated how loans impact both the scale of a typical business and household living conditions. Through interviews and data analysis, Kelly drew conclusions on the effects of microfinance on the local community.
Hilary Atayi graduated from University of Manchester, where she studied Law. Switching her career focus to development and human rights, she worked in Burkina Faso and Ghana to support women's rights. Hilary assisted with the introduction of reusable sanitary pads to the community and with case studies.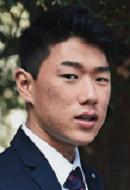 Noah Cha is a sophomore from Irvine, California studying finance at the University of Notre Dame. He is involved in the Investment Club and Special Olympics team on campus. Noah used his talents as a videographer to direct several videos about the loan program and its impact on the local communities.
Grace Collins is a junior at Princeton University, concentrating in Politics and African Studies. She is also a musician and introduced a music program at Buyobo Primary School. Grace instructed students in choral singing and prepared them for their triumphant participation in a nation-wide music competition.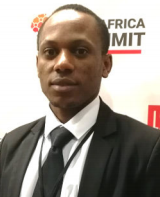 Paddy Mukasa is a junior from Mukono District, Uganda who is studying accounting at the University of Strathclyde in Glasgow. Paddy has worked with a Malawian start-up, helping them establish bookkeeping systems. Paddy analyzed data and prepared a borrower savings analysis. He also created a Financial Literacy Handbook for our Boys and Girls Groups.
Caroline Plouff is a senior at the University of Notre Dame, majoring in Political Science and Global Affairs. Working with the Student International Business Council, she developed a business plan to help preserve ancestral data in the Gulu, Uganda, post-civil war. This summer, she prepared a village-by-village savings report and as well as writing up borrower case studies.
Ethan Seide, from Bethesda, MD, is a sophomore at Princeton University. He studies Operations Research & Financial Engineering. As an aspiring engineer, Ethan led a project for village students to teach them about engineering and sustainable energy. Ethan spearheaded the project of redesigning WMI's website.

Nora Tucker is a sophomore at the University of Notre Dame, studying Computer Science. On campus, Nora is on the Engineering Leadership Council and Baraka Bouts, the women's boxing team. Nora used her technological background to help design the 2019 Fact book and assisted with the website redesign project. Nora also taught a boxing lesson at Girls/Boys Group.
2018 Spring/Summer Interns Uganda
Born and raised in Ghana, Akosua is a recent graduate of Ohio State University, majoring in Women's Gender and Sexuality Studies. She is a founder of the Mmaakunim Foundation in Ghana, which offers entrepreneurship skills training to ten women selected from the ten regions of Ghana and collaborates with medical officers and lawyers to assist with business, legal and health training. She prepared media materials for WMI during the spring.
Our summer interns arrived at the beginning of June and will be here for two months working on data analysis of loan program operations, teaching at Buyobo nursery school and working with orphans for a pilot run of a potential new outreach project.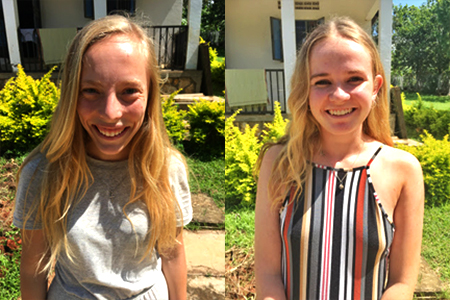 Lilia Smyth is from the great city of Boston. She is passionate about children's rights issues and community development. Currently, she is entering her second year at Leiden University in The Hague, Netherlands where she majors in International Studies with a concentration in Africa and the Swahili language. She plans to work in international development and human rights law in Africa,
Cerina Corrigan is from Auckland, New Zealand. One year ago, she packed her suitcase, said goodbye to her family and friends, and moved to the U.S to study Economics at Princeton University. Cerina loves to travel and has found Uganda to be a beautiful country - she is awed by the mountains that surround Buyobo and Mbale.
2017 Summer Interns Uganda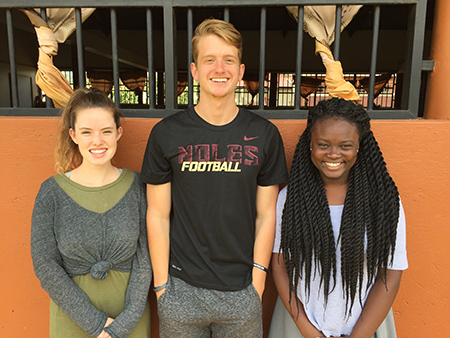 This trio undertook a number of projects to improve health and local community services, created program videos, and analyzed 1,320 borrower surveys to prepare the 2017 Fact Book reporting program results (posted on the WMI web site). (L to R) Julia Dreher, Vince Dewar, Emmanuella Kyei Manu
Julia (left) is a rising sophomore intending to major in Philosophy, Politics and Economics at the University of Michigan-Ann Arbor. As a member of the WMI team, Julia worked with the Girls' Group to teach courses on hygiene, sexual health, and entrepreneurship to P5 and P6 girls. Additionally, she took the lead in creating videos highlighting WMI's work in Buyobo.
Vince (center) is currently a rising junior majoring in International Affairs at Florida State University in Tallahassee, Florida. Vince's strong interest in economic development can be traced back to his work with THMT, a non-profit, that provides healthcare and related services to a rural community in Haiti. Vince hopes to pursue a master's degree in International Development with a program in the U.K. In addition to working with Buyobo's boys group, Vince organized multiple borrower interviews and created detailed borrower biographies.
Emmanuella (right) is a rising junior at Princeton University with a concentration in Economics and a certificate in Cognitive Science. Growing up in Accra, Ghana, Emmanuella is looking to complete her undergraduate studies and pursue a degree in law. Emanuella finalized the Fact Book data and report presentation.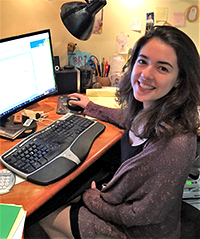 Maya Andresino is serving as a research intern with WMI to help organize grant data and update our social media. She is a recent graduate of The Edmund Burke School in Washington D.C. and will be start at Georgetown University in the fall. Maya first learned about WMI while doing research as a 6th grade student for a school project and has followed the organization since that time.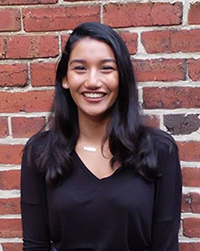 Reaiah Moses is a junior at The George Washington University, double majoring in International Affairs and Economics with a concentration in international development. Outside of her academics, she enjoys hiking, singing, and participating in community service. Reaiah is eager to bring her passion for microfinance and women's empowerment to WMI this year.
2016 Summer Interns Uganda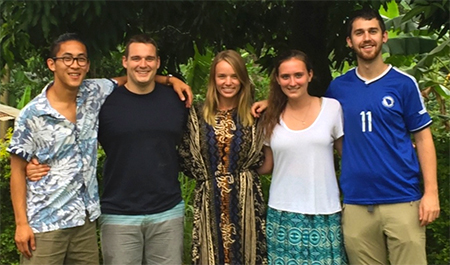 (L to R) Michael Change, Noah Marti, Ashley Van Waes (WMI Fellow) Natalie Andrasko, Javier Eguiara
This summer's interns concentrated on teaching and training students and health teams in Buyobo.
Noah Martin will be entering his Senior year at Georgetown University majoring in Biology of Global Health with a pre-med concentration. Noah's main contribution will be to train Village Health Team officials on basic health skills including First Aid, CPR, blood pressure, and heart rate.
Michael Chang is a Junior at Princeton majoring in Economics. As a University soccer player, Michael is taking the lead on creating a recreational program at Buyobo Primary School and teaching Math.
Natalie Andrasko is a Junior majoring in International Studies at University of Michigan. She is implementing a gender violence counselling program for P6 and P7 girls and also teaching Math.
Javier Eguiara is entering his final year as a Business Administration major at Deusto University in Bilbao, Spain. He is pioneering a new program called Boys' Group in Buyobo that will teach P6 and P7 boys about hygiene, sexual health, healthy relationships, and business skills.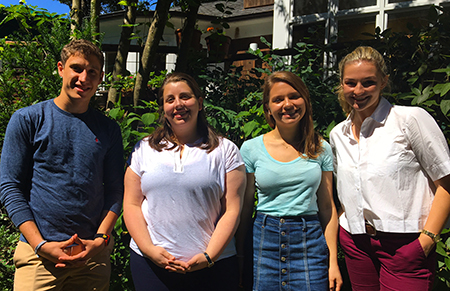 (L to R) Devoe Arnold, Madeleine Scanio, Sarah Barakso Martin and Marlee Grant
This summer the USA based interns are reformatting the Fact Books and restructuring how the annual impact data is reported.
Devoe Arnold (Washington, DC) is a rising junior at Bowdoin College, majoring in Neuroscience and minoring in Government and Legal Studies. Working with an NGO in Peru garnered his interest in international development at the community level, which he hopes to explore as a career opportunity.
Sarah Barakso Martin (Chevy Chase, Maryland) is a rising junior at the University of Pennsylvania, majoring in Economics and minoring in Fine Arts and Art History. She is a member of the UPenn branch of 180 Degrees Consulting, where she developed an interest for international impact projects.
Marlee Grant is a rising junior at The George Washington University, double majoring in International Affairs-International Economics and Dance. She was a member of the GW Women's Leadership Program for Globalization, Economics, and Business.
Madeleine Scanio is a rising junior at The George Washington University working towards a bachelor's degree in Business Administration with a concentration in Finance. At school, she is an active member of the Women in Business Organization where she works to promote gender equality in the work force.
2015 Summer Interns Uganda
Abigail Gellman, a native New Yorker, is a rising junior at Princeton University. She participated in the Princeton Bridge Year Program, living for nine months in Senegal. During high school she was extensively involved with Girls Learn International, raising awareness for girls' education issues. Abby sings, the Katzenjammers, and she is involved in diversity programming at the advocacy committee of Students for Prison Education and Reform.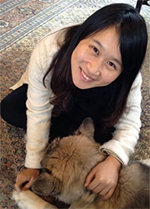 Jing Xie, a native of China, is a rising sophomore at Princeton University, majoring in Operation Research and Financial Engineering. Attending high school in India, Jing witnessed widespread poverty first-hand. Entering college, she wanted to use her skills to pursue women's empowerment through micro-finance. Jing gained video productions skills working at the Office of Communications. She participates in Princeton University Players and the Film Society.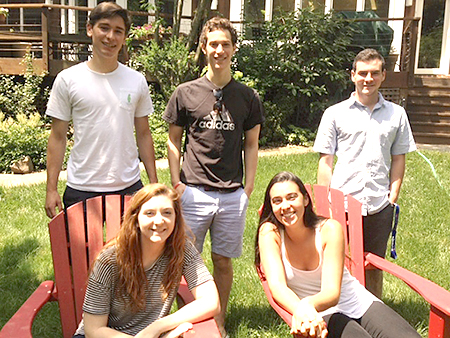 Clockwise from back row L - Simon, Lucas, Eric, Beki, Caitlan
This summer the USA based interns are preparing statistical studies of the loan program's impact in each of the three countries in East Africa where WMI operates loan hubs.
Lucas Karron (Bethesda, MD) is a rising junior in the Robert J. Morrissey College of Arts and Sciences at Boston College, majoring in Economics. He plays tenor drums and drum set for the Boston College Marching and Pep Bands and plays intramural ice hockey.
Caitlin Kennedy (Harrisburg, PA) Caitlin is a rising senior at American University where she is double majoring in International Development and Economics and focusing on Africa. She recently studied abroad in and is a member of the Phi Sigma sorority.
Eric Rogers (Rockville, MD) is a rising sophomore at Pepperdine University, majoring in finance. He is a member of Pepperdine's Microfinance Club and an active participant in Campus Ministry. He plans to study abroad his entire sophomore year in Shanghai, China.
Beki San Martin (Washington, DC) is a rising junior at UVA with a major in English and a minor in Global Sustainability. She is very interested in international development, especially focused on gender issues and women's rights. She enjoys her role as a mentor through the Young Women's Leadership Program, as a sexual assault peer advocate through One Less, and as an ESL tutor for grad students from different countries.
2015 Spring Intern Uganda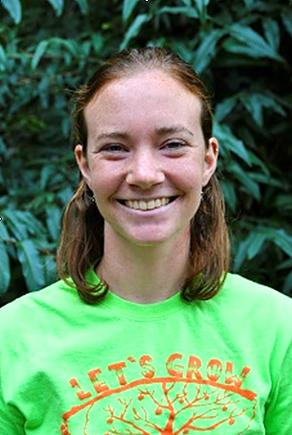 In January 2015, Karen Bustard joined the WMI team for a 5 month in-field internship. She graduated from Tufts University in 2013 with a B.A. in International Relations. In Spring 2012 she studied abroad in Madagascar, where she conducted research in villages within a national park. Over the past four years, she worked at Urban Tree Connection, an urban farming and community revitalization non-profit in west Philadelphia. Karen will work closely with WMI's Local Director to continue computer training and skills development for our loan program administrative team. She will also visit other loan hubs to provide resource training.
2014 Summer Interns Kenya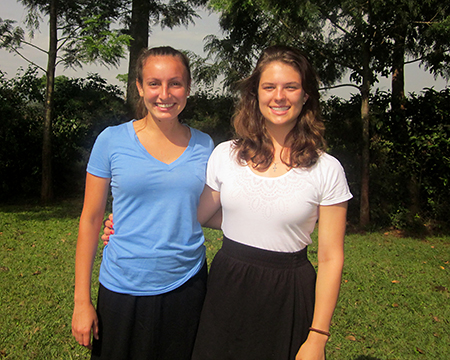 (L) Elizabeth Sidamon-Eristoff and Kaylee Lucas
WMI has two summer interns in Shikokho, Kenya this year: Elizabeth Sidamon-Eristoff and Kaylee Lucas. They are working with WMI's local partner to train women in computer use, create budgets/accounting systems and expand program operations.
Elizabeth majored in Peace and Conflicts Studies at Colgate University. She graduated in 2013 and subsequently participated in a selective post-graduate intensive business seminar called The Fullbridge Program to learn the basics of business terminology and organization.
Kaylee was a Religious Studies major at the Univ. of Virginia and just graduated in 2014. She studied collective identity issues which help make microfinance and borrowing groups successful.
2014 Summer Interns Uganda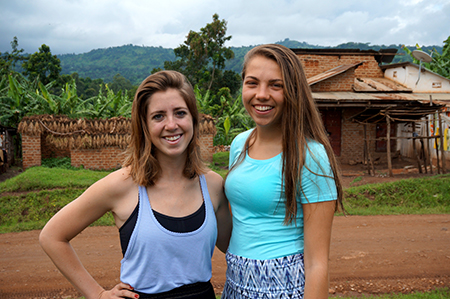 (L) Amanda Conklin And Morgan Nelson
Amanda Conklin and Morgan Nelson are the 2014 college summer interns at the WMI office in Buyobo, Uganda. Amanda is from Huntington, New York and is going into her sophomore year at the University of Notre Dame. She is studying International Economics and International Development. Morgan will be a junior at Princeton University in the upcoming Fall. She is from Key West, Florida and is interested in journalism and international development. She is majoring in Politics. Both have worked with microfinance in the past and are excited to be in Buyobo working with the ladies in the loan program.
This summer they will be helping the loan hubs to increase financial literacy among administrators. They will help administrators create expense sheets and budgets to better organize their hubs. Morgan and Amanda will be continuing the longitudinal study started by last year's interns.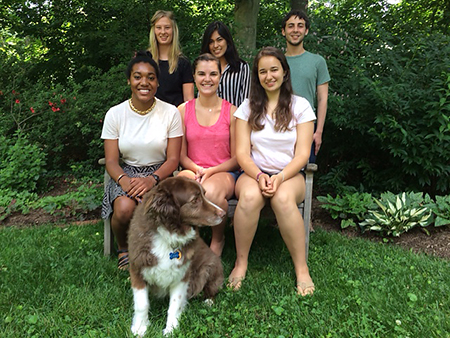 Front row - left to right: Karynne Campbell, Jenna Foster, Carolyn Freeman; Back row - left to right: Rianna Aylward, Dira Djaya, Micheal Rosenberg
WMI's six summer college interns in the USA will focus on analyzing the data collected from loan program participants during the past year. In particular, they will track the progress of Masaai women in rural Tanzania who have been in the loan program for over a year. They will also revise WMI's data collection procedures in rural villages and create improved survey tables so that our village-level staff can begin the data compilation at the local level.
Karynne Campbell (Silver Spring, MD) is a rising sophomore at Tufts University, majoring in Economics and Psychology and minoring in Entrepreneurial Leadership. She is an employee at the Office for Campus Life, Social Chair of Tufts' Black Student Union and on varsity crew.
Rianna Aylward (Wellesley, MA) is a rising junior at Wellesley College where she is majoring in economics and minoring in English. At Wellesley she plays on the women's soccer team, serves on the Student Athlete Advisory Board and is a member of the Apiary Society.
Carolyn Freeman (Bethesda, MD) is a rising sophomore at Boston College majoring in Economics and English. She also writes for the school newspaper, The Heights, and is a member of the Community Outreach Council.
Jenna Foster (Fairfax, VA) is a rising sophomore at Virginia Tech where she plans to major in Business Finance and minor in International Business. She plans on studying abroad in Spain her spring semester of junior year. Jenna is a member of the Students Helping Honduras club and part of the National Society of Collegiate Scholars at Virginia Tech.
Michael Rosenberg (Bethesda, MD) is a rising sophomore at Carnegie Mellon University who intends on majoring in some applied math field. He is a peer tutor for CMU's Academic Development service and was a research assistant for CMU's School of Decision Sciences. He enjoys interning at WMI!
Dira Djaya (Rockville, MD) is a rising junior at Tufts University, majoring in Economics. Her academic interests include development economics and post-colonial theory. She is the designer for RacEd, a Tufts publication engaging with issues of race and the lived experiences affected by racism and is a board member of PERMIAS Massachusetts (the Indonesian Students Association of the United States).
Victoria Stevenson is creating videos and photo essays for the WMI web site, as well as multi-media presentations for WMI's speaking engagements. A 2013 graduate of Tufts University, Tori majored in history and minored in philosophy. She was president of the Tufts History Society and an Environmental and Policy Action Campus Leader. Last summer she served as a production assistant with the company filming the One Million Bones art installation project on the National Mall.
2013 Summer Interns in Uganda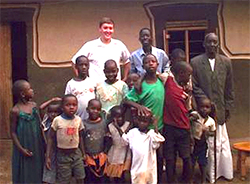 Located in Buyobo, Uganda for June and July of 2013, three college interns were busy at work assisting with WMI operations at the largest loan hub. Ian White (Notre Dame), Kristi Hill (Tufts University), and Britta Burgis (San Francisco State University), contributed to updates on WMI's blog. Through their blog posts, which contain videos, pictures, and stories, the interns were able to provide accurate and accessible narratives of the borrowers' daily lives at work and with their families.
The college interns updated the 2012 fact book to present new data in the ongoing longitudinal study of the most experienced borrowers. Through interviews and completed questionnaires, the college interns were able to provide insight into how the loan program is changing women's business opportunities in rural areas and improving their access to financial services. The interns also worked on a Testimony Booklet, compiling 10 compelling testimonies about various women's journeys through the WMI loan program, and the impact the loan has had on their lives and families.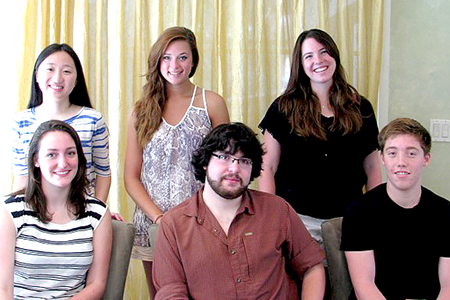 First Row: Tricia Woodcome, Alex Valentino, Chris Heagan
Second Row: Tiffany Sun, Sienna Romano, Meghan Reynolds
WMI's six stateside college interns embarked on their summer journey of compiling and analyzing how WMI organizes and presents its loan program impact information, which is gathered every 6 months from borrowers across Uganda, Tanzania, and Kenya. The team of six has overhauled the recording and organization of incoming data into new templates and is now training its sights on reimagining the layout and content of the annual Fact Books.
Chris Heagen (Bethesda, MD): Chris is a rising sophomore at Cornell University where he plans on double majoring in Economics and Information Science. He is in the Lambda Chi Alpha fraternity and plays goalkeeper for the club soccer team. He also trains middle school aged goalkeepers.
Meghan Reynolds (Bethesda, MD) is a rising sophomore at Dickinson College, where she will major in International Relations and minor in Arabic and Spanish. She helps freshmen out during orientation as an Orientation Assistant. She is a part of Alpha Phi Omega at Dickinson.
Siena Romano (Hardwick, MA): Siena Romano is a rising sophomore at American University, majoring in Public Health. In May, Siena traveled to Tanzania for her third time with WMI partner Judy Lane where they managed the loan program in Alaileli and issued the first loans for WMI's new hub in Tloma.
Tiffany Sun (Rockville, MD) is a rising sophomore at Georgetown University, studying Government and Math. In high school, Tiffany not only participated in debate and Model U.N., but also spent her days interning at a local domestic violence non-profit, her state's attorney's office, and her county's domestic violence coordinating council. At Georgetown, she is a member of the Delta Phi Epsilon Professional Foreign Service Sorority, staffs NAIMUN and NCSC conferences, and helps with GU Take Back the Night.
Alex Valentino (Falls Church, VA): Alex is a rising sophomore at Lehigh University, where he is double majoring in Finance and Computer Science. In high school, he worked with WMI partner , Arlington Academy of Hope (AAH), to start student support clubs in multiple high schools, and traveled with AAH's founder to eastern Uganda to work with the model school AAH operates there. He is currently a member of the Delta Chi fraternity.
Tricia Woodcome (Lexington, MA): Tricia is a rising sophomore at New York University, where she is majoring in Global Liberal Studies with a minor in Art History. After spending her junior year of high school in France, she returned with a passion for travel and languages. She hopes to someday travel to Uganda and see the WMI loan program in action. At school, she enjoys exploring New York City with friends.
2012 Summer Interns Uganda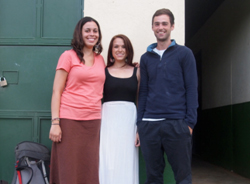 Danielle DaCosta, Xaviera Alvarez and Dan Higgins - from Toronto, Stockholm, and Essex respectively - got to work on the summer's projects, which included conducting borrower surveys and interviews, providing computer training to borrowers and local WMI staff, and interfacing with bank contacts, other NGOs and local government officials. The interns also worked on separate special projects: Danielle and Xaviera created a Luguisu -English pictorial dictionary for local schoolchildren and visitors to Buyobo, while Dan developed borrower questionnaires to gain insight into their lives and businesses, and created the fact book format for data collected on borrower savings. They also coordinated a visit to local officials to talk about repairing Buyobo Primary School.
Summer 2012 - Bethesda Interns

Top row: Chelsea Lo, Nikki Heimberg, Jess Littman, Ashley Grayson
Bottom row: Rebecca Miller, Nick Shasy, Julia Graham
This summer's interns will be compiling borrower survey data from the past year and providing extensive statistical analysis of the information gathered. They will be using the SAS JMP software, graciously supplied gratis by SAS in Cary, NC. In addition, the interns will work on updating the web site, grant writing, reaching out to other NGOs and non-profits, and updating and improving WMI's social media presence.
Julia Graham (Bethesda, MD): Julia is a rising senior at Bowdoin College, where she is majoring in Psychology and Sociology. She just returned from a semester abroad in Cape Town, South Africa, which piqued her interest in international development. At Bowdoin, Julia is a member of Peer Health, Big Brothers Big Sisters, and is the captain of a championship-winning intramural ice hockey team.
Ashley Grayson (Ocean, New Jersey): Ashley is a senior at American University where she is majoring in International Development with a focus on Africa, and minoring in Mathematics. She spent a semester abroad in Nairobi, Kenya where she worked with refugee girls and pretended to know how to speak Swahili. After graduation, Ashley hopes to return to Africa for more adventures.
Nikki Heimberg (Potomac, MD): Nikki is a rising sophomore at Tulane University and plans to major in Education and International Development. She is a member of the Sigma Delta Tau sorority and enjoys playing tennis. This summer, she looks forward to spending time with friends and visiting her family in London. Nikki traveled to Buyobo, Uganda with WMI back in 2010.
Jessica Littman (Bethesda, MD): Jessica is a rising sophomore at New York University, studying International Development and Middle Eastern Studies. She traveled to Uganda with WMI as a high school intern in 2010 and is back this summer as a Bethesda Intern. She also works at Georgetown Cupcake and enjoys reading and spending time with her friends and family.
Chelsea Lo (Bethesda, MD): Chelsea is a rising junior at Barnard College in New York City, where she is majoring in Economics with a concentration in Political Economy. On campus, she is a co-musical director of a Christian a cappella group and participates in a Christian fellowship group. She enjoys reading, spending time outdoors, and exploring the city in her spare time.
Becca Miller (Chevy Chase, MD): Becca is a rising junior at Vassar College in Poughkeepsie, NY where she is majoring in Political Science with a minor in Music History. She plays the trumpet in her college's orchestra and jazz band.
Nick Shashy (McLean, VA): Nick is a rising sophomore at the University of Virginia where he plans to enter the McIntire School of Commerce. At school, Nick is a member of the club lacrosse team, the Delta Phi fraternity, and the Inter-fraternity Council's Judiciary Committee.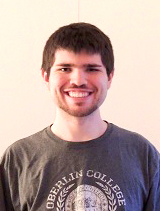 The Fall/Winter 2012 intern, Matthew Brown, is creating new data collection forms for loan hubs to efficiently report on information they gather from WMI borrowers. Matt graduated from Oberlin College in 2011 where he majored in History and minored in East Asian Studies. Last year, Matt worked as an Assistant Teacher at the Kingsbury Center, a school for students with learning disabilities in Washington, DC. Matt will continue pursuing his passion for teaching with the Peace Corps in May 2013.
2011 Summer Interns Uganda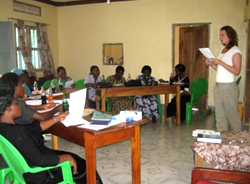 University of Michigan graduate Erin Kelly, University of Maryland graduate Jaclyn Vouthouris and University of Edinburgh graduate Ida Stuve assisted with the summer loan distributions, created documentary videos about life in Buyobo and worked with the local director to update the budget. They also helped to organize, analyze and provide borrower data to WMI in the US, and provided business and computer training. Both assisted with the supervision of the Whitman High School interns.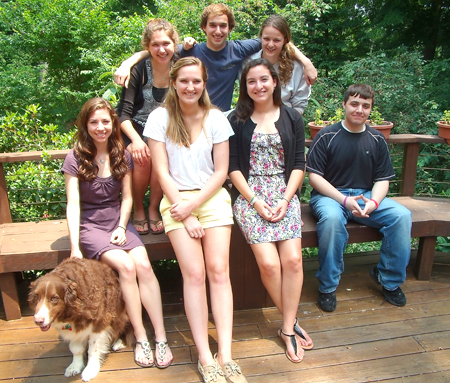 Top row: Dana Max, Timothy Freeman, Victoria Stevenson
Bottom row: (Cody Bear), Layne Schwab, Emily Hyson, Phoebe Sanderson, Michael Pearson
The interns this summer are analyzing over 2,500 records so that we can understand the loan program's impact on women's households and the community at large. It is a large undertaking and we appreciate their dedication in reviewing and compiling the data.
Dana Max (Bethesda, MD): Dana is a rising sophomore at Emory University and plans to major in Economics. Eventually she hopes to pursue her interest in Public Health and the Spanish language. At Emory she participates in University Chorus and yoga.
Emily Hyson (Bethesda, MD) is a rising junior at Washington University in St. Louis, double majoring in Psychology and Marketing. On campus, she is a member of WUNICEF (WashU UNICEF) and Alpha Kappa Psi business fraternity, where she served as VP of Philanthropy this past year.
Victoria M. Stevenson (Bethesda, MD, Tufts University '13): Tori is a rising junior at Tufts University. She is perusing a major in both history and philosophy. She is also coaching the Carderock Springs Swim Team.
Layne Schwab (S. Burlington, Vermont): Layne is a rising junior at Colby College, where she has a double major in Government and International Studies. Layne is a varsity member of Colby's cross country and track teams, serves on the student advisory board of the Goldfarb Center for Public Affairs and Civic Engagement.
Michael Pearson (Bethesda, Maryland): Michael is a rising sophomore at Case Western Reserve University, Majoring in Economics and Political Science. He is a member of the Pre-Law fraternity Phi Alpha Delta and Case Western Mock Trial team.
Phoebe Sanderson (McLean, VA): Phoebe is going into her second year at University of Virginia, planning on majoring in business with an international concentration. She also enjoys Spanish and is hoping to study abroad in either Spain or South America. In addition to interning at WMI, she is also lifeguarding at her neighborhood pool this summer.
Timothy Freeman (Bethesda, Maryland): Tim is a rising sophomore at Washington University in St. Louis where he is studying international economics and business. In his spare time, Tim enjoys Ultimate Frisbee, playing in his school's Jazz Band and lifeguarding at his local pool.
2010 Winter Intern Uganda
In January 2010, Alex Richardson, a sophomore at Oberlin College, travelled to Buyobo with WMI President Robyn Nietert and Advisory Board Member Denis Kalule to assist with the first major loan issue of the year and to help transition the first WMI borrowers to bank loans with PostBank Uganda.
Alex was also in charge of photography and videography for the trip, documenting the progress the loan program has made in just two short years. He caught the enthusiasm of the entire village in his video of the ladies' parade to the Trading Center to celebrate the loan program's second anniversary and the graduation of the first borrowers to bank loans.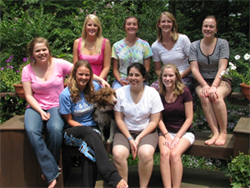 Top row: Laurel Rigsbee, Montana Stevenson, Valerie McDonald, Ellen Janssen
Bottom row: Alex Chernow, Victoria Stevenson, (Cody Bear), Laura Esposito, Glynnis McIntyre Missing: Alex Meyer, Kelly Parshall
These fabulous college students (and two recent graduates) compiled survey data from the past year and undertook extensive statistical analysis of the information gathered. They used the SAS JMP software, graciously supplied gratis by SAS in Cary, NC. This year SAS has provided WMI with professional staff support, including a custom-tailored webinar where all of the interns could view and manipulate the data. In addition, the interns updated the web site, improved WMI's photo and video files and created new media layouts, linked WMI to social media, organized foundation information, and prepared grant applications.
Alex Chernow (Bethesda, Maryland): Alex is a rising sophomore at New York University's Gallatin School of Individualized Study, where she is concentrating in Cultural Analysis and Travel Writing. Alex will be studying in Ghana during the fall semester of this year and will write about her study abroad experiences in the NYU paper.
Laura Esposito (Bethesda, Maryland): Laura will be entering her senior year at New York University's Gallatin School of Individualized Study. She is concentrating in International Development and studied in Madrid, Spain this past semester. Last summer, she traveled to El Salvador for a weeklong service trip and participates in NYU's Habitat for Humanity and Journal of Global Affairs.
Ellen Janssen (Noordwijk, Netherlands and McLean, Virginia): Ellen will be a rising junior at the UVA, majoring in Economics. She is interested in development studies and spent this past spring semester in Pune, India. At UVA, Ellen is a member of the Alpha Phi Omega community service fraternity, the UVA ballroom dancing team, and the Cinemateque Committee, which hosts movie screenings on campus.
Valerie McDonald (Herndon, Virginia): Valerie is a rising junior at the UVA, majoring in International Economics and minoring in Global Culture and Commerce. She plans to go into microfinance as a career - her favorite part of microfinance is that although it is an economic process, it addresses many other problems in developing countries indirectly.
Glynnis McIntyre (Raleigh, North Carolina): Glynnis is a rising junior at American University in Washington, D.C., with a major in International Studies, concentration in International Development, and minor in Global Health and Development. She is the Fundraising Chair for AU's St. Jude's Up 'Til Dawn event and Vice President of Panhellenic for AU's chapter of Delta Gamma.
Laurel Rigsbee (Woodbury, Minnesota): Laurel will be a senior at Occidental College in Los Angeles this fall, majoring in Economics with a minor in Russian. Laurel has played both softball and rugby at college and she spent the fall of her junior year studying in St. Petersburg, Russia. She is interested in developmental economics and intends to pursue a career that would allow her to work internationally.
Montana Stevenson (Bethesda, Maryland): Montana just graduated from UVA, with a major in History and a minor in Economics. This is her third summer interning at WMI likes that the WMI model provides the borrowers with the ability to control their own economic opportunities. Montana will lead the Walt Whitman High School internship trip this summer. She'll return to Uganda in the fall to conduct a joint WMI/PostBank rural banking study and prepare transition guidelines for borrowers graduating to independent banking.
Victoria Stevenson (Bethesda, Maryland): This fall, Victoria will be a sophomore at Tufts University in Boston. She traveled to Buyobo in January 2008 to help issue the first set of loans to WMI borrowers and hopes to return this coming winter. She is also a swim coach for the Carderock Springs Swim Team, trains for the Tufts Boston Marathon Team, and writes for the Tufts Daily Newspaper.
2009 Winter Interns Uganda
Margot van der Vossen from Bethesda, MD and Brian Miller from Rochester, NY, traveled to Buyobo to spend six weeks interning for WMI. Equipped with an M.A. in International Relations in Diplomacy International Studies from Leiden University - the Netherlands (Margot) and a Master's Degree in Math, Science, and Technology Education from St. John Fisher College, in Rochester, NY (Brian), they focused on developing WMI's fledgling youth tutoring program and helping the ladies with loan program procedures.
Having brought over 1,000 donated children's books with them, Brian and Margot expanded WMI's children's library and continued the tutoring program introduced by interns Danica Castraith and Tobin Jones in May 2009. They also set up a PTSA/educational committee to take charge of the tutoring programs and other educational endeavors, turning over all duties and responsibilities to a community-member committee.
Through their meetings with solar power providers in Kampala, Margot and Brian were able to do comprehensive cost-comparisons for solar lighting options. They brought several demo solar products to Buyobo with them, and villagers were excited to learn about these new options. While traveling through Sironko, Margot and Brian met almost all of he loan program clients and were able to develop information about their living standards and how the program had improved their lives.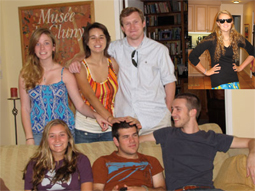 WMI summer interns in Bethesda, Maryland undertook a comprehensive statistical analysis project of borrowers in the WMI loan program. Utilizing the data provided by borrowers in semi-annual surveys, the interns created the first comprehensive profile of WMI borrowers and the first assessment of the impact of the loan program. Their research provided direction on where and how to expand the loan program, insight into additional services that will increase borrowers' capacity, and contributed to the limited body of original research on the impact of microfinance programs. SAS, Inc. in Cary, NC provided JMP statistical software free of charge to the WMI interns. (L to R top row: Liz ,Laura, Bryan, Tori, Montana, Dave, Alex)
Bryan Norris - a senior at Davidson College in North Carolina. During the summer of 2008 he interned on Capitol Hill in the offices of U.S. Representatives Sue Meryick and John M. Spratt, Jr. He is an Eagle Scout and organized a program to supply AIDS home-based treatment kits for 250 affected families in Malawi. Since 2008, he has tutored at Ada Jenkins Center LEARNworks and has been an editor of the Davidsonian newspaper.
David Jaffe - lives in Chevy Chase, Maryland and is currently attending Wheaton College in Norton, Mass., where he is majoring in Studio Arts. David is integrating WMI's media products and revamping the WMI website.
Laura Van Oudenaren - lives in Bethesda, Maryland and is a senior at Davidson College in North Carolina. She has volunteered with an after-school tutoring program called Ada Jenkins Center LEARNworks since her freshman year, and has been an editor for the Davidsonian, a campus newspaper. In the summer of 2005 and 2006 she spent time volunteering on the Three Affiliated Tribes Reservation in North Dakota. During the 2008 fall semester she went to Cameroon to study French and Economic Development.
Alex Richardson - will be a sophomore at Oberlin College. He is working with WMI on it's statistical analysis of Borrower data. His family is relocating to Uganda this summer and he will be interning in Buyobo, in August 2009, where he will assist with automating WMI records.
Elizabeth Scroggs - lives in Silver Spring, Maryland and is a junior at Tulane University in New Orleans. At Tulane she is involved in a tutoring program called Tulane Afterschool Enrichment (TAE). An educational trip to El Salvador through CRISPAZ in 2006 inspired her continued involvement in international development. She started her internship here at WMI in the June 2009.
Montana M. Stevenson - lives in Bethesda, Maryland and is a senior in the Echols Scholars Program at the University of Virginia. She has participated in outreach and education programs sponsored by Heifer Project (rural Massachusetts), Running Strong (focusing on Native Americans in North Dakota), and CRIZPAZ in El Salvador. During the 2007 - 2008 academic year she served as an intern at the Women's Resource Center at UVA. She is a member of Bradley Hills Presbyterian Church. Montana traveled to Uganda and assisted with the Program Launch in January 2008.
Victoria Stevenson - lives in Bethesda, Maryland and is starting her Freshmen year at TUFTS University in Boston. Victoria is a swim team coach and also specializes in supporting the interns in their work with WMI.
2009 Summer Interns Uganda
Tobin Jones and Danica Straith, juniors at McGill University, spent the summer interning with WMI in Buyobo, Uganda. Their stay there was enormously helpful to building the WMI program. After numerous trips to Mbale, they were able to install a modem and get our office hooked up with wireless Internet access. This was huge step forward for the WMI program. Our team can now send e-mails and communicate via the Internet without having to travel the 2 hours to Mbale by bus and without having to wait in line at the local Internet Café. Tobin and Dani worked on automating the WMI records and provided Excel spreadsheet training.
The interns launched the WMI tutoring program with 40 children for an hour each day. They reported that the children were angels and eager for the help with their schoolwork. WMI provided notebooks, pencils and some simple workbooks. The woman paid 1,000 shillings per week for each child - which is about 50 cents. We believe that the improvement programs that WMI launches must be working toward sustainability. The small fee helped support the program and it helped the women put a value and spending priority on education for their children. The tutoring program will continue in the fall.
2008 Summer Intern Uganda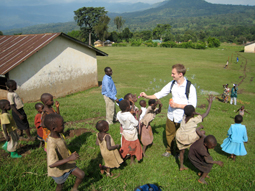 Hart Wood, a junior at Mary Washington College in Virginia, traveled to Buyobo in July 2008 to help with WMI's third and fourth loan issue. His visit was appreciated by all the children of the village, who followed him everywhere, especially once they found out he always traveled with little jars of bubbles. Hart's assistance was invaluable as the bank wire transmitting the funds for the loan issue was erroneously posted to the wrong account. He spent endless days backtracking through the electronic wiring system to resolve the issue. Back at college, Hart wrote to us about his time in Buyobo: "Working for WMI in Uganda was one of the most valuable experiences of my life. I was able to do actual microfinance field work, allowing me to start my economic development career with an MFI who was just getting settled themselves. In Uganda, I met some incredible people and got to work in a culture vastly different from ours. Thanks to WMI for my first real experience in economic development work!"
2008 Winter Intern Uganda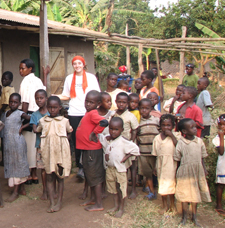 Montana Stevenson, a sophomore at the University of Virginia, accompanied WMI President, Robyn Nietert (her mom) and Board Member June Kyakobye, to Uganda in January 2008, as WMI's first intern. She assisted in the development of the microloan program format and with the loan program launch. While in Buyobo, she managed document organization interviewed prospective borrowers to help them write simple business plans. She vetted business ideas and assisted with the 2 days of training in marketing, business operations, and management concepts. Although many of the women had operated micro-businesses before, no one had ever explained the benefits of record keeping and she tutored borrowers one-on-one in book-keeping basics.
As part of the team of the first WMI representatives to visit Buyobo, Montana acted as an ambassador for the loan program. She interviewed community leaders, spent time with the village children, met with bank officials and photographed and videotaped the program launch. After a week in the village, the ladies of Buyobo grew very fond of WMI's first intern and prayed for her return sometime in the future.
Past High School Internship Projects
Summer 2014 - High School Interns
After a 15 hour flight and six hour car ride, nine high school students from Walt Whitman High School in Bethesda, MD arrived at Buyobo, Uganda at the end of June for a two week internship. Their main project - teaching at Buyobo Primary School - was a challenge at first.
Summer 2013 - High School Interns
On June 17th eleven high school students (8 from Walt Whitman High School, 2 from Bethesda Chevy Chase High School - both in Bethesda, MD - and one from a private school in Florida) arrived in Uganda as WMI interns and immediately got to work.
Summer 2012 - High School Interns

Eleven students - plus teacher-chaperone Bob Mathis and his wife Tali - from Walt Whitman High School in Bethesda, MD arrived at 2 AM on Sunday, June 17.
Summer 2011 - High School Interns
Walt Whitman High School interns arrived in Uganda on June 22nd, 2011. Accompanied by a post-high school student, a few teacher chaperones, June, a WMI member who is originally from Buyobo, and her daughter, Cindy.
Summer 2010 - High School Interns
Fabulous! There is no other word to describe the nearly three week long internship that fourteen Walt Whitman High School students from Bethesda, MD undertook in Uganda this summer.