Program Expansion
2020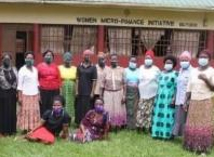 This was a difficult year for the ladies' businesses and our local staff provided outstanding leadership in guiding the loan program through the first year of the Covid-19 pandemic. Although the virus spread slower than anticipated, the lockdowns and associated violence had a disproportional economic impact on the rural areas in which we operate our loan programs.
Many of our borrowers' businesses slowed or even shut down temporarily. Our 2020 plans were tossed out the window as we quickly pivoted to respond to the pandemic. We refocused our fundraising to provide personal protective equipment (PPE) to our staff, and infrared thermometers, masks, hand sanitizer and foot pedal-operated hand washing stations for our hub and sub-hub locations. We distributed emergency food and aid packages to local orphans as well as to communities in distress.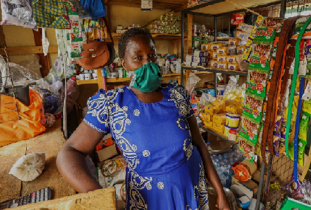 We then turned our efforts to helping borrowers with severe damage to their businesses by restructuring to provide access to working capital to replace lost inventory, plant new crops or acquire depleted raw materials to start-up operations again. In some cases, the situation was so egregious (watchmen stealing women's entire bean, onion, or tomato harvest) that loan forgiveness was the best alternative.
Through a foundation grant and other donations, we created a fund to cover loan losses. After halting loan issuance for six months, we began issuing loans again in October 2020. Although COVID infection rates are again rising, we believe it is critically imperative that we continue to make loans to women on the edge of poverty to support their businesses. Without that, we are certain that our borrowers and their families will spiral downward into the poverty we have worked so hard to alleviate for more than a decade.
2019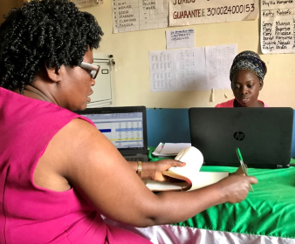 We assessed the potential for a new program in the Maasai Mara area of western Kenya in Aitong village. The women were well-organized into their own self-help group and had solid business ideas and start-ups. Our expert training team from Buyobo traveled there and conducted a three-day training session in December, with the program launch scheduled for January 2020.
Continuing our goal of supporting the hubs through proper infrastructure, we constructed our seventh sub-hub meeting pavilion/office, including latrines (a very big plus for village-level infrastructure). The women of Mutufu purchased the land and WMI built an office/meeting pavilion and three-stance latrine. The buildings are used for loan collection and training activities, and also provide a venue for village level meetings.
At our headquarters, we introduced the use of custom software, developed specifically for the WMI loan program, to automate the bank reconciliation process. It has saved our staff countless hours of very tedious bookkeeping and improved our overall operating efficiency.
2018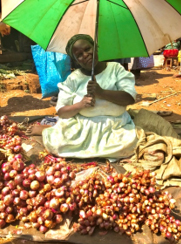 This year WMI hit two million dollars in total funds raised to support our program: a major accomplishment for an organization with no paid staff! Of this amount, 72% has funded our revolving loan fund and training, 27% has been directed to building infrastructure such as meeting facilities, offices, and 1% has gone to training and special projects.
In 2018, WMI provided 7,800 loans totaling almost $1,000,000, bringing the total value of loans issued since 2008 to over $6.2 million. This year WMI added 3,500 new borrowers, bringing our total number of borrowers since 2008 to over 17,000. Each loan positively impacts at least 20 people, including nuclear and extended family members, thus WMI has been able to reach over 340,000 individuals and improve their lives.
2017
WMI hit the $5,000,000 lending mark. Roughly 40,000 village-level loans have been issued through the WMI Program. To meet the growing demand for loans, two new sub-hub pavilions are constructed in Sironko District, Uganda - one in Zesui and one in Busia. Both feature a separate three stand latrine building - part of WMI's commitment to environmentally sound development. The loan program in Lewa, Kenya increases loan amounts to meet the capital needs of borrowers' expanding businesses.
WMI introduced a pilot project to experiment with Jumbo Loans of up to $1,000 for the most successful graduates of WMI's basic two-year Loan Program.
2016
One of our 2016 highlights was the completely renovated and expanded Buyobo water system. It is providing clean water to over 5,000 residents, as well as customers at the new shops, students at Buyobo Primary School, and visitors to WMI's headquarters building. The project was jointly funded by the Buyobo Women's Association, WMI and Bradley Hills Presbyterian Church in Bethesda, MD. The region's Chief Water Engineer, Alex Gidudu, has certified that it is one of the few water systems in all of Sironko District where the community can feel confident drinking the water directly from the taps without treatment.
Continuing our goal of supporting the hubs through proper infrastructure, in 2016 we constructed a meeting pavilion/office in our Buputo loan hub in Manafwa District. The building is housing all loan program activities and also provides a venue for village level meetings.
WMI's new 500-seat meeting pavilion in Buyobo was dedicated in January 2016. The pavilion is solar powered and has an office for loan collection and a storage room. We added toilets, a kitchen, and a retaining wall to keep soil intact during rainy season. It is also a source of rental income for the program.
2015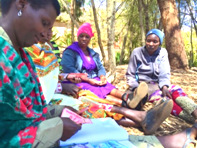 WMI expanded loan program operations to a third location in Tanzania with the Maasai women in Nainokankoka, through a partnership with Weston Turville Wells for Tanzania, a UK-based NGO. WMI had previously worked with WTWT on financial literacy training for local Maasai women and consulted to them on their microfinance program, which at the time did not meet WMI's women-based program model. Based on WTWT's loan repayment experience, in 2015 WTWT decided to limit their program to women borrowers and WMI brought training and operations expertise to the table to help more local women launch businesses. WMI also expoanded its financial literacy training program for girls in Kabale, similar to the one we are operating in Buyobo, through a grant to Rukundo International, one of our Kabale program partners.
2014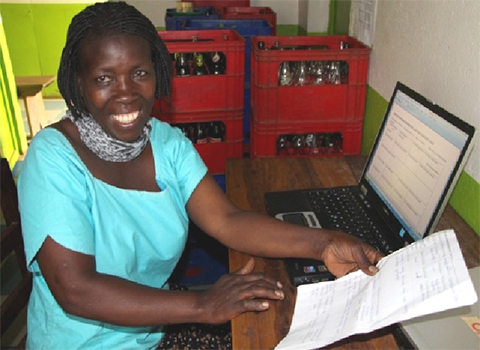 Olive Wolimbwa, WMI's Local Director, and her team of 20 rural women (also borrowers) at the Buyobo Women's Association (BWA) provide leadership and supervision for all of the loan hubs and are breaking new ground in developing strict fiscal protocols. They are bringing a high level of control and oversight to rural loan program systems operations. This year they prepared an end-of-year profit/loss statement and balance sheet for headquarter loan hub operations. This gave the ladies enormous insight into program operating efficiency and provided a valuable planning tool for future growth. It sparked discussions on how to cut cost, consolidate functions and improve operations.
Over 50 hub administrators and local coordinators from our programs throughout East Africa travelled to Buyobo to attend a series of week-long training sessions in how to operate the loan program, train new borrowers, and improve record keeping. The women were also able to share experiences and knowledge with their sister hubs.
The first loans were issued in 2008 and the first 120 women graduated from the loan programin 2010. In 2014, we decided to go back and see what had happened to the borrowers from 2008 and their businesses. We conducted a survey that found 95% of businesses are still in operation! View Report
2013
This year WMI almost doubled in size, adding over 1,850 new borrowers and issuing 4,900 loans amounting to $707,000 (an average of $150 per loan). WMI assisted 11 additional groups of women in their transition to independent banking in Uganda, providing them support and working with PBU to ensure a smooth graduation to the formal economy. Expansion-wise, WMI added 3 new village hub locations: Buputo, Uganda under the auspices of the Matuwa Microfinance Women's Group, Ngarendare, Kenya, in conjunction with the Naibala Self Help Group, and Tloma, Tanzania was added under the leadership of the Tloma Community Organization, a sister program to the Alailelai, Tanzania program. WMI funded construction of an office and meeting hall for the Blessed Watoto loan group in Atiak, located in northern Uganda near the South Sudan border. And a meeting pavilion was constructed in Buteza, Uganda to accommodate the concentration of borrowers there.
2012
WMI expanded the program to new loan hubs in Tanzania, so that WMI now covers the three main countries in East Africa. A new position of Resource Fellow was added in Buyobo and is filled each year by a college graduate with community development skills to assist the local staff in building human capacity in the villages where they work. Another small WMI building was added in Konokoya, Uganda. Loan groups in the original hub of Buyobo were expanded through the establishment of sub-hubs so that there are over 30 loan groups now in the districts surrounding the town of Mbale!
2011
WMI hosted ten summer interns in Bethesda, who were responsible for writing grants, updating the website and inputting borrowers' survey data to analyze to gauge loan program impact.
Eight more High School students, three college graduates and one adult intern traveled to Buyobo during the summer. Their stays ranged over 2 months and they contributed a multitude of talents to paint classrooms, update the Internet caf©, shoot video footage for a documentary film, automate loan records, train borrowers in advanced business skills, prepare a banking manual, interview borrowers and village elders to prepare a history of the region and the WMI loan program.
The loan program expanded to new hubs in Konokoya, Uganda and Shikokho, Kenya. Ten borrowers in Kenya were trained in a World Bank training-to-train program and now provide mentoring to new WMI borrowers in Kenya. Additional trainers were added in Buyobo as that loan hub continues to expand geographically.
2010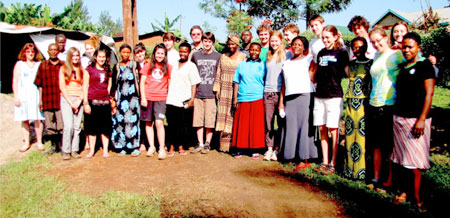 In January of 2010, WMI's most experienced borrowers entered the transition-banking phase with PostBank and began receiving loans directly from the bank that were 100% guaranteed by WMI.
WMI began a summer high school intern program in July of 2010. 14 students from Walt Whitman High School in Bethesda, MD, traveled to Buyobo, where they set up an Internet café and taught computer skills to women and children in the village. Summer interns in Bethesda again analyzed the borrower data collected the previous year and developed three fact books and research papers on how WMI loans are improving lives for impoverished families. Two recent college post-graduates, Montana Stevenson and Ainsley Morris, started a 10-month stay in Buyobo to direct program expansion, develop borrower tools and prepare a banking manual.
After raising over $170,000 in donations, the loan program expanded to five new loan hubs throughout Kenya and Uganda.
2009
WMI raised over $100,000 and completed construction of a shared community building to provide offices for WMI and meeting space for borrower support groups.
Over 200 initial and 320 follow-up loans were dispersed with no late payments. In partnership with PostBank Uganda, WMI developed the Transition to Independence Program (TIP) to transition WMI's experienced borrowers to independent banking.
Summer interns in Bethesda analyzed the borrower data collected through regular surveys and prepared the first WMI fact book, documenting the extensive impact of the loan program in improving household living standards.
2008
Loan program expansion started just six months after our launch. In July 2008, WMI Advisory board member Robert Israelite and WMI summer intern Hart Wood, a junior at the University of Mary Washington, traveled to Buyobo to hold a graduation ceremony for the first group of borrowers, who made their final loan payment in July. They also issued follow-up loans for larger amounts to the alumni and made loans to 40 new borrowers.
In October 2008, the final 40 loans of the year were issued, with 40 more women added to the waiting list for 2009. Ron Cordes of San Francisco, whose family foundation provided a grant to cover a 5-year salary for WMI's Local Director, Olive Wolimbwa, traveled to Buyobo and met with the borrowers. It was a thrilling experience for the women of Buyobo.